Technology partners bundle competencies and develop synergies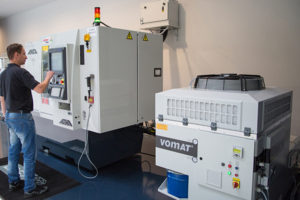 Modern tool grinding requires a complex network of different parameters in a sensitive total production environment. All components involved must be optimally coordinated with each other to automatically produce flawless cutting tools and reproduce tool geometries with first-class surface finishes. In addition to efficient machine technology, the cooling and lubrication strategy plays an important role. One example of such a "quality double" on the market is the machine technology of CNC grinding machine manufacturer ANCA in conjunction with micro filters from VOMAT.
When specialists bundle their resources and competencies and combine cutting edge technologies, the end user is the beneficiary and this is especially true in the case of tool grinding. In this market segment, Australian grinding machine manufacturer ANCA, with its European headquarters located in Weinheim/Germany and the leading filtration specialist VOMAT from Treuen/Germany work closely together.
ANCA is one of the world's leading manufacturers of tool grinding machines and offers solutions for both high and low volume production. ANCA's machines are used in the manufacture of some very complex tools for industries such as medical, woodworking, and automotive, as well as the aircraft and aerospace industries.
ANCA not only develops innovative tool grinding machines but also manufactures all the main components and assemblies itself. In addition to CNC controls, ANCA supplies key components such as spindle and servo drives as well as highly developed system software with user-friendly applications. This allows it to meet specific customer requirements with maximum flexibility. Moreover, it allows it to control all relevant production and quality parameters.
One example of a very successful ANCA machine on the market is the FX7 linear series. Thanks to a robot loader in combination with the 6- disc changer, they can be easily used for fully automatic tool grinding in large volume production scenarios. With the integrated non-contact, LaserPlus measuring system, an entirely new level of automation and precision has been achieved. An economical solution for smaller production lots is the ANCA FX5 Linear. With a fast disc changer, the FX 5 easily handles small and mixed batches of different tool types.
"In addition to leading machine, software, tool and automation technology, high-performance peripheral equipment is also required today to meet industry requirements in terms of surface quality, shape tolerances and economic efficiencies," states Jan Langfelder, managing director of ANCA GmbH. "This includes overall production conditions in a shop as well as the microfiltration of the lubricant and coolant. The filtration of coolants has developed into a very important quality factor in tool production next to high-tech grinding machines, grinding discs and quality materials. Today, ANCA cooperates with advanced technology partners in order to provide their customers with an optimal overall package. In the area of ​​coolant microfiltration, we partner with VOMAT amongst others."
VOMAT filtration systems, from stand-alone solutions to central systems, have proven themselves in many metal grinding applications. The high-performance filters are ideal for removal of fine particles from oil contaminated in processes such as grinding, honing, lapping, erosion and other processes.
Steffen Strobel, head of technical sales at VOMAT, states: "Optimally filtered grinding oils are an important mosaic stone in the overall process of tool making. Even tiny impurities and abrasive particles in the coolant can lead to diminished quality and accelerate the wear of the grinding tools. For economics, it is important to provide for longevity of the cooling media in the system, but at the same time, the grinding process requires highly temperature-controlled oil in almost factory fresh quality."
Technical advantages in cooling lubricant filtration
Vomat's controlled, full-flow filtration keeps the dirty and clean oil 100 percent separate and features an automatic back-wash cycle which is initiated by the degree of dirt in the filter elements. Through the use of a variable drive filter pump which activates only when needed, Vomat systems have an extremely positive energy balance. Vomat's special high-performance pre-coat filters ensure that the cleaned media can remain in the system significantly longer than in conventional filter systems which still operate with short-lived paper filters or other cost-intensive filtration aids. Furthermore, Vomat's high efficiency filters provide fresh clean oil to NAS 7 (3-5 μm) standards for the grinding process for a long, long time.
Steffen Strobel explains: "Since we work with all renowned machine and tool manufacturers, we can constantly adapt and further develop our technology to the needs of the market. This includes customer-specific maintenance and service and support packages, which are offered world-wide. Vomat systems are compact and low-maintenance. Thanks to their modular design they offer numerous options for cooling, filtration and sludge collection and recycling. Vomat systems are available in many configurations; from stand-alone units to plant wide central systems."
 Jan Langfelder adds: "The effort for tool manufacturers to provide the manufacturing industry with high-quality tools is growing steadily. The provisions they have made range from temperature-controlled production halls to state-of-the-art grinding, quality measurement and lubrication technology, as well as highly efficient storage and logistics concepts. As a machine manufacturer, we can support the tool manufacturers in many ways. With ANCAS own competence, service and support, and by working closely with capable technology partners such as Vomat, we can provide our customers with precisely the plant configurations they need to succeed."