PFERD wins four awards in only one year, while innovation continues to be the engine of the company's success
In March of this year, PFERD presented the "ALUMASTER®" High Speed Disc. This completely new tool for coarse stock removal on aluminium is described by the manufacturer of tools for surface finishing and cutting from Marienheide as an innovation. The customers who have been able to test and use the milling disc since then say they achieved impressive work results, extremely high stock removal rates and a high surface quality. But above all, users could see for themselves that working with ALUMASTER is comfortable and safe, an important aspect when using tools to machine metals.
The PFERD innovation has already won four innovation awards, which makes PFERD CEO Jörn Bielenberg visibly proud. He says, "When we started developing
ALUMASTER, we were convinced that it would be a typical PFERD tool: innovative in terms of technical function and performance and modern thanks to optimised ergonomics and efficiency."
He adds that this also makes ALUMASTER the best solution for users' applications: "The fact that this innovative achievement has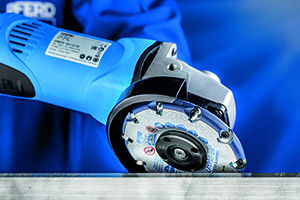 been commended by four expert juries which are independent from one another shows that what we at PFERD expect from each tool. To offer our customers sustainable products with the highest possible benefits and economic value is consistent and trendsetting," he said at the last awards ceremony, the European Aluminium Award in Düsseldorf.
He explains that ALUMASTER is only one of many innovative tools which PFERD has conceived and manufactured.
"They all have one thing in common: they always offer our customers added value." With innovations, but also with continuous improvements and further developments, PFERD will keep trying to contribute to making the use of PFERD tools worth it for users.
"Everyone who uses PFERD can continue to be confident that they will achieve a higher performance, optimum safety, better work results and the highest possible economic value."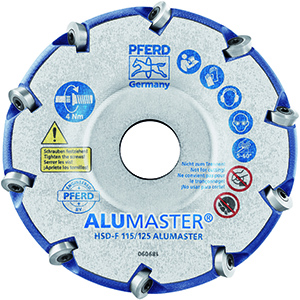 ALUMASTER is a tool for coarse stock removal on aluminium. It consists of ten specially developed tungsten carbide cutting inserts which are fixed to a very light, but extremely robust GRP disc. Weighing approximately 228 grams, the High Speed Disc is only slightly heavier than a reinforced grinding wheel. The geometry of the disc and the possibility of turning and eventually replacing the cutting inserts when they are worn allow the very long, safe and cost-effective use.
ALUMASTER is used for working on butt and fillet welds, on edges, for example for chamfering and for modifying geometries. ALUMASTER does not generate hazardous or explosive dust, but significantly larger chips, which are neither respirable nor explosive. Therefore, ALUMASTER® can be used in almost any location, without an extractor unit or air drive.
The new High Speed Disc is a cost-effective and eco-friendly alternative to reinforced grinding wheels and flap discs and can be used on air angle grinders with a power output of at least 1,000 watts or electric angle grinders with a nominal power of at least 1,400 watts. The innovative cut geometry with an integrated depth gauge is extremely safe and makes using the tool simple and easy to control.
The milling disc has won four international innovation awards: the EISEN 2016 Innovation Award in March, the Gold Medal for innovative products at the Innovations, Technologies, Machines trade fair in Poland in June, the EuroBLECH Award 2016 for innovative achievements in October and the European Aluminium Award 2016 in November.
PFERD Ltd
Tel: 01484 866149
Email: gary.pacitti@pferd.com
www.pferd.com