Telford-based oil mist collector manufacturer Filtermist has invested in an ABB robot for its welding department as part of the company's continuous improvement policy.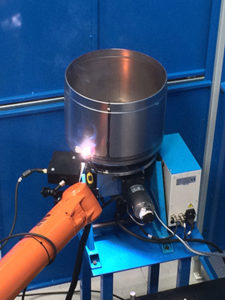 The investment follows sustained global growth which saw Filtermist's sales increase by 23 percent last year. Managing director James Stansfield elaborates: "Filtermist oil mist collectors are currently available in more than 60 countries and we are constantly growing awareness of the Filtermist brand around the world, as well as our international distributor network.
"This has resulted in a significant rise in sales and we have a number of plans in place to ensure we are able to meet the increasing demand for our products without compromising on quality."
Every Filtermist oil mist filter is manufactured in the UK by Filtermist's highly skilled employees, some of whom have been making Filtermist units for almost 30 years, using traditional metalworking skills including spinning and welding.
The robot has been installed to TIG weld the internal drums and outer cases. Cylindrical steel blanks are positioned on the turntable inside the dedicated welding cell and the robot applies the weld whilst the table slowly rotates. Each cycle lasts for approximately 2-3 minutes, which is not much quicker than human capability but increases productivity by enabling skilled workers to undertake other jobs such as planishing and linishing.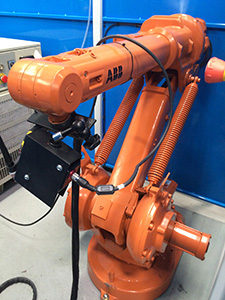 Manufacturing manager Brian Lowe explains: "Robots are used to carry out a wide range of tasks in a number of manufacturing sectors, including automotive which is a key market for Filtermist.
"The robot has been welcomed by the manufacturing team, which recognises the benefits of utilising the latest technologies to ensure Filtermist remains a market leader around the world. We have had reports of Filtermist units still operational after 30 years and we are all very proud to be playing a role in protecting other manufacturers from exposure to potentially harmful oil mist."
The addition of the robot is the first significant capital investment the company has made since it moved to new purpose built premises in 2015. James Stansfield continues, "As with all manufacturers, when we moved to Telford we wanted the transition to be as seamless as possible, but we're now in a position to be able to identify areas of our operations which could be improved."
Filtermist sourced the robot through Cannock-based WG Automation, a fellow Made in the Midlands member, following a conversation at a breakfast event it hosted in 2016. WG specified the model, oversaw the installation and provided ongoing support to ensure the ABB was operating exactly as Filtermist intended.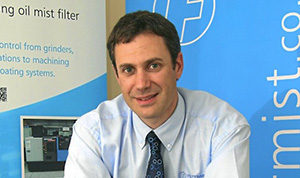 "We are very pleased with the installation of our first robot and we are confident that it will play an important role in helping Filtermist to increase its market share around the world," concludes Jame Stansfield.
Filtermist's ethos is to protect people by ensuring cleaner, safer, more productive workshops.
Established in the UK in 1969, Filtermist manufactures a range of compact, quiet and efficient oil mist collectors which are trusted by world leading manufacturers to effectively remove oil and coolant mist, fume and steam from workshop air.
Oil mist is created by machine tools spraying high pressure oils and coolants onto metal components to keep them cool during manufacturing operations including milling, drilling, turning and grinding. Exposure to airborne oil mist particles can cause a number of occupational diseases including skin conditions, respiratory problems and even cancer. It can also pose a fire and slip risk, and can damage sensitive electrical equipment if left in the atmosphere.
Filtermist oil mist collectors use centrifugal force to separate oil mist particles from the air, clean oil drains back to the machine for re-use or collection and clean air is returned to the workshop.
Filtermist offers local support in more than 60 countries worldwide through a network of approved distributors and Filtermist Asia Pte, a subsidiary company that looks after distributors in the ASEAN region.
Filtermist International Ltd
Tel: 01952 290500
Email: sales@filtermist.com
www.filtermist.com