Investment in ANCA FX5 Linear to achieve high volume production without compromising accuracy
The global ceramics market is expected to reach $287 billion by 2022, according to a recent report by Grand View Research, Inc[1]. Furthermore, advanced ceramics are expected to be the fastest-growing segment in terms of volume at a compound annual growth rate (CAGR) of over 9 percent through to 2022.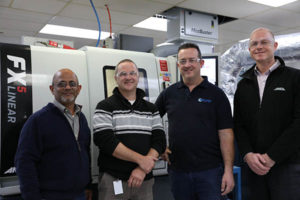 With the increasing global demand of ceramics, Morgan Advanced Materials in Melbourne Australia, recently purchased an ANCA FX5 Linear machine, dedicated to the high-volume production grinding of ceramic parts.
Morgan Advanced Materials is a global leader of advanced ceramics with 117 locations worldwide. It designs and manufactures advanced ceramic components from a portfolio of cutting edge materials in ceramics, as well as offering in-depth materials expertise and vast applications experience across a range of markets.
Steve Thompson, Morgan Advanced Materials general manager, explains the reason for deciding to partner with ANCA: "We reviewed and tested several different machines to evaluate which was best suited for grinding the most advanced and hardest ceramic materials. At the end of our extensive testing, we found that the FX Linear was the only machine that achieved consistent and accurate results that could meet our stringent requirements."
When asked about the results the FX5 Linear was able to achieve, he stated: "No other machine in-house was able to produce a ceramic part with the same accuracy, contour and surface finish as the FX5 Linear. We are consistently achieving contour tolerances down to 0.003 mm (0.0001") over large batches of ceramic parts. The FX5 is operating 24/7, which is critical to ensuring that our parts supply is able to meet the customer's delivery needs.
"Being locally supported by ANCA's experienced technical After Sales and Applications teams provides us with prompt customer service and on-site support. Maximising our machine uptime is crucial for us to achieve our high productivity goals.
"An important reason we purchased from ANCA was that we wanted to integrate our own third-party automation solution to minimise operator interaction and ensure maximum machine productivity. ANCA fully supported us with this and provided the electrical and software interface to the machine so we could easily integrate our loading system. It was important that we were able to do all of this ourselves to guarantee we ended up with a customised solution that met our needs."
"ANCA's software is flexible and easy to use, which allows our operators to quickly setup the machine and make any initial offsets simply and easily. The thermal stability of the FX5 Linear is excellent, so no changes are required once the machine is grinding in full production. The FX5 also has the latest CE and safety features, so there is comfort knowing that this machine meets all of our OH&S standards."
Understanding why the ANCA FX Linear is helping customers get ahead FX Linear machine range consists of three advanced, cost-effective tool and cutter grinders that are optimised for tool regrinding, light manufacturing, through to full production.
ANCA Motion's cylindrical LinX linear motors for axis motion (X & Y axes) are included as standard on all models. In conjunction with linear scales, a high degree of machine precision and performance is achieved, resulting in greater tool accuracy and superior surface finish.
Machines include an easy-to-use touchscreen and handheld pendant that simplifies setups. Other features include: compact and innovative machine design with large grinding envelope; each part of the machine, including position of the grinding wheel on the C-axis centreline, for reduced axis motion and improved accuracy; a range of auto tool loaders, wheel changers, workholding and tool support options; rigid polymer concrete base provides greater vibration and thermal dampening capabilities.
ANCA (UK) Ltd
Tel: 024 76 447000
Email: wright@anca.com
www.anca.com