With a heritage in CNC Precision Machining spanning almost 40 years, the Altec Engineering Group is widely recognised for its comprehensive range of machining services and capabilities. The continued investment by the Group in its facilities and new machine tools in recent times has been reinforced by the recruitment of a number of personnel in strategic roles. The latest recruit, Mark Bruce, has joined the Group as a CNC grinding specialist, bringing 37 years of subcontract grinding experience with him.
The Altec Engineering Group already has a strong CNC machining capability, with state-of-the-art facilities at Altec Engineering CNC, Sigma Technologies and Ronco Engineering. The appointment of Mark Bruce will further enhance the skills and capabilities of the CNC Grinding Department due to his extensive knowledge and experience of grinding machinery.
Mark will be promoting and utilising the Group's range of grinding facilities, including those of Altec Engineering Ltd, that has the capability to offer subcontract surface grinding and cylindrical grinding services. Part of the Group's significant investment in new machine tools involved the purchase of a Studer S33 Universal Grinder. Based at the Group's Durham site, the Studer grinder has a combination of thread grinding capability, 2 sizes of steady and the capability to achieve tolerances of just +/- 2 microns giving Altec a unique competitive advantage in CNC Grinding, especially within the North East.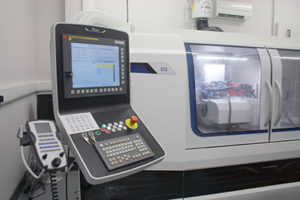 Mark Bruce's expertise in grinding comes from his previous ownership of Gee Bee Grinding in Gateshead. Established in 1980, Gee Bee Grinding had a lengthy and close working relationship with Altec. It was this previous experience of working with the company that appealed to Mark, who explains: "I am looking forward to joining a business I have watched grow since it was created by Ron Waite in 1978. It is clear that, although the Group has seen rapid growth within the last couple of years, the core values are still prominent. Coming from a lean, small business myself I am looking forward to the challenge of applying my knowledge on a larger scale."
Mark's role within the company will see him involved in a range of areas to enhance and strengthen the grinding department, including business development, technical and customer support, plus training strategy.
For more information about the CNC capabilities within the Altec Engineering Group, contact:
Altec Engineering Group
Tel: 0191 377 0555
Email: altec@alteceng.co.uk
www.altecenggroup.co.uk