Metalynx wheels provide premium cutting and grinding solutions within MAX and PRO Performance line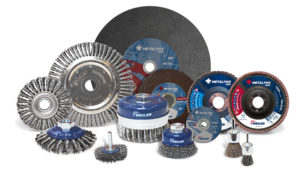 As a world leading manufacturer of abrasive solutions, Weiler Abrasives has now published its new Metalynx catalogue that introduces its latest series of Metalynx cutting and grinding wheels. The comprehensive new Metalynx product line is the first-choice solution for manufacturers regardless of whether you are looking for grinding, blending, cleaning bevelling, notching or cutting products.
The new Metalynx line incorporates a complete series of cutting and grinding wheels, flap discs and wire brushes. Selection has never been so simple, as the Metalynx brand includes the comprehensive new MAX Performance Line and the PRO Performance Line.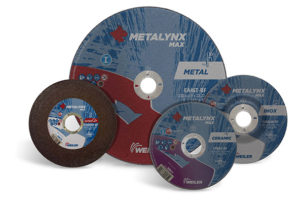 The MAX range has been introduced to maximise productivity, whilst demonstrating superior service life and cutting rates. Removing stock material effortlessly, the MAX performance line is suitable for applications on steel, stainless, Inconel, titanium and high nickel alloys. In contrast, the PRO performance line is a versatile series that demonstrates long product life for general purpose applications on materials such as carbon and stainless steel, structural steel, iron and general metals.
Both performance lines are available with a variety of grain, grit and grade combinations to maximise performance, regardless of your application. The MAX range optimises performance with its thin cutting wheels that deliver accurate, clean cuts whilst its dual reinforcement technology provides added strength for aggressive cutting. Furthermore, the MAX line has a smooth outer layer that reduces friction and results in an effortless cut and reduced kickback whilst the contaminant-free wheels provide piece-of-mind for stainless fabricators concerned about workpiece contamination.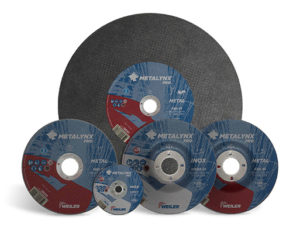 The MAX range is available in MAX Ceramic, MAX Aluminium, MAX Metal and MAX Inox & Metal product line ups, while the general-purpose PRO series is offered with Inox & Metal combined cutting wheels as well as metal cutting wheels. Additionally, the range includes combination wheels which offer flexibility and efficiency when switching between cutting and grinding applications. This is due to a specially engineered third layer of fibreglass reinforcement that provides the strength for grinding while maintaining a fast cutting action.
The Metalynx brand incorporates a wide selection of products that include thin cutting wheels and standard thickness wheels for angle grinders as well as small cutting wheels for die grinders, large diameter wheels for stationary, chop and gas saw variants. Metalynx also includes a complete line of grinding wheels and cut/grind wheels for angle grinders as well as flap discs. The flap discs include MAX and PRO variants. MAX flap discs are designed for demanding users who want to maximise productivity and product life. PRO products are for users who want value in an industrial product. These discs are available with Ceramic Alumina and Zirconia Alumina grain compositions with a variety of coarse to fine grit sizes.
The new Metalynx catalogue will also mark the arrival of the next generation of thin cutting wheel technology with the new Weiler Ultracut Series. With a true and precise 1 mm thickness and proprietary SOLID CORE technology that increases wheel density, the Ultracut exceeds expectations with astounding service life, reduced friction, plus a smooth and precise cutting action. This makes the new Ultracut wheels ideal for processing thin metal tubes, profiles, and sheet metal. For manufacturers aiming to maximise productivity, the Ultracut line can carve through material 20 percent faster than competitor products, while the SOLID CORE technology extends service life and reduces burrs with its smooth cutting action.
The new Metalynx catalogue also introduces a complete range of wire brushes for cleaning corrosion, scale removal, weld-cleaning and a host of additional jobs. The brush section of the new Metalynx catalogue has a variety of wire wheels, cup brushes, end brushes, stem-mounted brushes and bevel brushes in crimped wire and knotted wire configurations.
For further details on how you can benefit from the new Weiler Abrasives Metalynx brand of cutting & grinding wheels, flap discs and brushes, contact:
Weiler Abrasives Group
Tel: 00386 3757 5225
Email: metalynx@weilerabrasives.com
www.weilercorp.com/metalynx