Costa Lev range now available exclusively in the UK from FICEP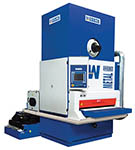 FICEP UK has announced that it has been appointed as exclusive UK agen for Costa Lev, a world-leading manufacturer of automatic metal deburring and surface finishing machines.
These high-quality machines have an unrivalled reputation for reliability and performance for the deburring of plasma/oxi fuel /laser cut parts, the grinding of all flat, ferrous and non-ferrous metal parts to a desired quote and the polishing of large metal surfaces to provide the finest finishing available with a complete absence of chatter marks.
When there is a mix of materials or a different finish is required, Costa machines have a unique patented LOCK system which provides total flexibility, reduced downtime between changeover of brushes and easier maintenance.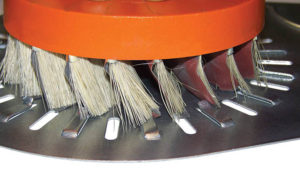 Depending on the edge radius required, vertical or orbital type brushes can be used, either individually or in multiple groups to ensure the required finish is achieved on the top or the top and bottom sides of the component in one pass.
Parts up to more than 400 mm thick, and more than 3,000 mm wide can be processed and the polishing systems have a feeding speed of up to 50 me/min. It makes these machines the ideal solution for removal of slag, burrs and oxide even when the parts are warped or uneven.
When polishing wide stainless-steel sheets, the quality of the surface finish remains consistent until belt life end as the machines automatically compensate for wear of the belts. This is possible thanks to the machine's inbuilt PLC which extends the life of the consumables which further reduces processing costs.
All machines in the Costa range exceed CE and OSHA approval, with noise reduction systems and special devices to protect operators and prevent parts from getting damaged. Not only do the machines eliminate dangerous and time-consuming manual grinding work but they also massively increase productivity and reduce production costs.
FICEP UK
Tel: 01924 223530
Email: sales@ficep.co.uk
www.ficep.co.uk