The Supfina Planet V4 is the winner of the German Design Award 2018. This machine from Supfina stands for high-precision results in double-disk grinding. Along with the new, high-quality design, the company has succeeded in presenting an even more compact and cost-efficient machine without compromising precision, productivity, and ease-of-use.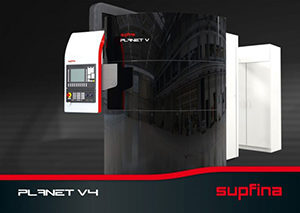 The German Design Award honours manufacturers and designers whose innovative products have made pioneering contributions to the German and international design landscape. The German Design Council, the expert for brand and design in Germany, bestows the German Design Award. Only products distinguished by outstanding design receive this prize from the highly esteemed, international jury of experts.
With locations in Germany, the United States and China, Supfina Grieshaber GmbH & Co. KG is one of the world's leading manufacturers of surface-finishing equipment. Its product lineup includes machinery and devices for superfinishing, as well as flat-surface machining, double-disk grinding and fine grinding. Decades of experience, along with a steadfast commitment to researching and developing the latest technology, means that Supfina machines can more than handle the demands and rigors of everyday production. Combine this expertise with excellent customer service and you can understand why the company continues to be so successful.
Supfina Grieshaber GmbH
Tel: 0049 7834 866175
Email: p.kirschmann-mich@supfina.com
www.supfina.com