Turbex Ltd, based in Alton, Hampshire, has been supplying aqueous cleaning systems to industry for over 30 years and more recently anodising, chemical cleaning and surface treatment lines. It is now one of the latest firms to receive accreditation under the Alcumus SafeContractor scheme.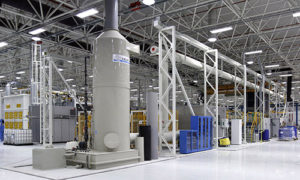 The scheme recognises excellence in health and safety management in over 10,000 registered contracting firms and is referred to more and more by safety-conscious businesses in Britain when selecting service providers. Small and medium-sized enterprises through to FTSE 100 companies are increasingly reluctant to run the risk of employing contractors that are not able to demonstrate rigorous health and safety policies.
Under the SAFEcontractor scheme, suppliers undergo a vetting process that examines their procedures and track record for safe practice. Those companies meeting the required high standard, like Turbex, are included on a database accessible to registered employer organisations via www.safecontractor.com
Firms buying Turbex's aqueous cleaning and surface treatment lines can be confident that the equipment will be installed to the highest safety standards following the supplier's accreditation to the SafeContractor scheme.
Turbex Ltd
Tel: 01420 544909
Email: john.huntingdon@turbex.co.uk
www.turbex.co.uk