Vollmer has built a new facility in Zabrze, near Katowice in Upper Silesia to serve the growing customer base in Poland. Developed on over 500 square metres, the new offices will accommodate seven employees, workshops, storage facilities and a showroom to display the specialist sharpening machines.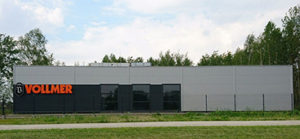 The Biberach-based manufacturer will have machines on-site that will include the QXD 250 eroding machine, the VGrind 360 tool grinding machines and the CHD 270 grinding machine for carbide-tipped circular saw blades. With the new Vollmer Polska facility, the sharpening specialist will expand its offer for the wood and metalworking industries and strengthen its market position in Eastern Europe.
"Vollmer has been represented in Poland since 2012 with its own subsidiary and has successfully positioned itself in the industry for grinding and eroding machines", states Marcin Kurcon, managing director of Vollmer Polska. "Our new building in Zabrze is part of our ongoing development. We now have more space for our sharpening machines which we will be able to promote better to our customers. In addition, more training courses and machine tests can be performed than ever before."
Situated only 20 kilometres from the previous Vollmer facility in Bytom, Poland, the new subsidiary in Zabrze is near Katowice. Marcin Kurcon received a visit from the Mayor of Zabrze Malgorzata Manka-Szulik at the official opening. Vollmer managing directors Dr. Stefan Brand and Sieglinde Vollmer travelled to Poland especially for the event. Sieglinde Vollmer is curator of the Sieglinde Vollmer Foundation, member of the Supervisory Board of the Vollmer plants and daughter of the company's founder Heinrich Vollmer.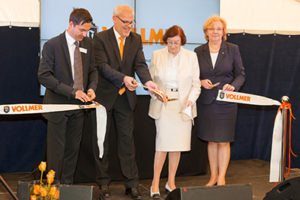 The entire area covers around 4,700 square metres and, in the machine demonstration room, Vollmer Polska showcases high-quality sharpening machines for machining tools and circular saw blades. The product portfolio currently includes five machines that include the QXD 250 eroding machine, the VGrind 360 grinding machine for machining rotary carbide-tipped tools and the CHD 270 grinding machine that can be used to automatically sharpen carbide-tipped circular saws.
Customers from the woodworking industry, including furniture manufacturers, sawmills and service companies, will now have a facility to witness demonstrations. This is vitally important because Poland is one of the largest furniture producers in Europe. Circular saws and rotary tools made from carbide or with PCD (polycrystalline diamond) play a decisive role in the precise machining of wood, chipboard or composite materials. The metalworking industry in the region is equally important with customers from the car manufacturing and aerospace technology sectors also becoming increasingly important. It is not only companies from Poland that will visit and utilise the Vollmer Polska subsidiary, as companies from Belarus, Ukraine and the Baltic region will also visit this facility to learn more about the tried and tested Vollmer products.
"For Vollmer, Poland has become an important market for sophisticated eroding and grinding machines", states Dr.-Ing. Stefan Brand, managing director of the Vollmer Group. "The investment in our new building in Poland is another valuable component of our growth strategy in order to be able to offer our customers more intensive support services and meet the increasing requirements of future-oriented technologies and services."
Vollmer UK Ltd
Tel: 0115 949 1040
Email: admin-uk@vollmer-group.com
www.vollmer-group.com