XYZ Machine Tools has seen significant growth in machine tool orders in the second quarter of its financial year, with the period from 1st May to 31st July registering a superb 42 percent increase in sales year-on-year. This growth is being driven both by UK customers and an increase in business from across Europe, with sales to mainland Europe increasing by 12 percent over the same period.  These figures are reported at what is an exciting time for the Burlescombe-based business, with new product launches, such as the UMC-5X five axis machine and the LR series of vertical machining centres complementing the already diverse product range from XYZ Machine Tools.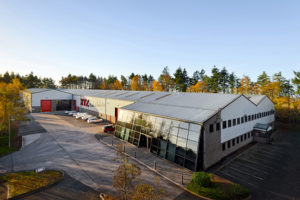 Nigel Atherton, managing director, says: "These new machines add to our overall proposition to customers and, although we only introduced them in April, we have already sold 18 of the Linear Rail LR machines as they offer exceptional value. Interest in the five-axis machine, which is a new departure for XYZ, is extremely positive and sales of these machines will be reflected in the next quarter's figures as we are working on some exciting prospects with our applications team."
In comparing year-on-year figures Brexit has to be taken into consideration as the devaluation of the Pound since the referendum has impacted on the cost of importing machine tools. The counter to that is the positive effect of the exchange rate on those exporting machined components, with the latter seemingly offsetting the former for XYZ Machine Tools.
Nigel Atherton concludes: "There was inevitably some uncertainty following the referendum and our costs increased as a result, but the level of business we are seeing indicates a much higher level of optimism in the market as a whole and, we along with our customers, are certainly in more positive spirits than we were back then."
XYZ Machine Tools
Tel: 01823 674200
Email: nigel.atherton@xyzmachinetools.com
www.xyzmachinetools.com