Presenting its high specification multi-axis machining centres and following the recent appointment to represent OKK with its range of 5-axis, vertical and horizontal machining centres, which followed the setting up of a strategic technology alliance with Halbronn Group, the distributor of machine tools and automation in France, 2D CNC Machinery is to stage a multi-axis machining Open House at its new technical centre at Hinckley on 29th and 30th November.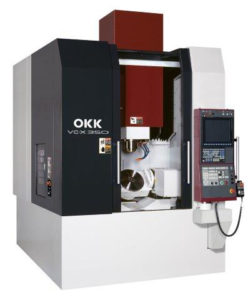 Director David Holden says: "Along with other partner companies we will be demonstrating many different aspects of 5-axis machining, from programming through tooling and workholding, and will include an example of reverse engineering. Meanwhile, machine demonstrations will feature two 5-axis OKK vertical and two horizontal machining centres plus a Fermat WFC10 under power. In addition, a Wele vertical machining centre and automation from the Halbronn Group will be installed."
Representations from the 2D CNC Machinery portfolio including Mitsui Seiki cells and systems and Reiden 5-axis machines will also be available for discussions.
Over its 30 years of trading, Halbronn has installed over 5,000 machines throughout Europe. It has sales of 35 m Euros with five showrooms in France and operations in Belgium and Poland.
While there is an open invitation to all and lunch will be served on both days, to help with catering, those wishing to attend should call: 0844 871 8584.
The 2D CNC Technical Centre is located at Lakeside Court, Tungsten Park, Hinckley, Leicestershire LE10 3BH
2D CNC Machinery Ltd
Tel: 0844 871 8584
Email: d.holden@2dcnc.co.uk
www.2DCNC.co.uk