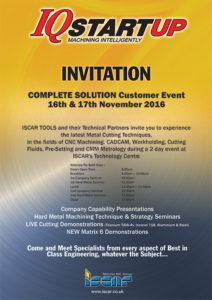 ISCAR TOOLS will be hosting a 'complete solution' customer event at the ISCAR UK technology centre in Birmingham, on 16th & 17th November 2016.
In addition to demonstrations of recent ISCAR innovations, the company's technical partners, including Mazak, DMG-Mori, Aberlink, Autodesk, Kelch, Jemtech, Filtermist, SolidCAM and Roemheld, will be showcasing their latest products.
Attendees will witness the application of advanced metal cutting techniques in the fields of CNC Machining, in addition to the latest developments in CADCAM, workholding, cutting fluids, pre-setting and CMM metrology.
Iscar Tools Ltd
Tel: 0121 422 8585
Email: sales@iscar.co.uk
www.iscar.co.uk