Leading factory automation solutions provider FANUC has announced Warwickshire-based systems integrator Cyber-Weld Ltd as its preferred arc welding partner in the UK.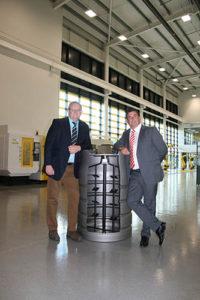 Based in Southam, Warwickshire, Cyber-Weld, an approved FANUC Strategic Partner, has supplied FANUC robots to its UK-wide customer base for around 20 years. Its customers operate in sectors ranging from automotive to marine, and aerospace to chemicals.
The announcement follows the recent launch by FANUC UK of its ARC Mate 100iD welding robot, which boasts a number of innovative features, extending FANUC's technical leadership in this area.
To mark this new era of partnership, Cyber-Weld presented FANUC with a robotically welded nuclear waste container welded by FANUC robots by Lancashire-based Graham Engineering, a long-standing customer of Cyber-Weld.
Graham Engineering operates eight systems varying in application from laser welding to TIG/MAG, plasma cutting, and shot-blasting, all using FANUC robots and integrated by Cyber-Weld.
Tom Bouchier, managing director of FANUC UK, says: "The welding market is one where we have identified significant growth potential, but in order to harness that, we require the support of specialist systems integrators able to combine our specialist welding robots with other equipment.
"Cyber-Weld is one of our longest-standing systems integrators in the UK and is ideally placed to service the needs of a broad spectrum of customers requiring systems that offer precision and reliability in all areas of welding, built around our high-specification welding robot range."
Cyber-Weld managing director Fraser Read adds: "FANUC robots have an enviable reputation for quality and performance and they are invariably our first choice when developing an automated welding system. Our customer base continues to grow based on the quality of our service and of the systems we supply, with FANUC products at their heart. We look forward to further extending our highly productive partnership with FANUC in the coming years."
FANUC UK
Tel: 024 76 053000
Email: info@fanuc.co.uk
www.fanuc.eu/uk