Bromsgrove-based TLM Laser has further enhanced its laser products and systems portfolio through a recent partnership agreement with IPG Photonics, the world leading developer and manufacturer of high-performance fibre lasers. TLM Laser will be responsible for the sales, marketing, installation and servicing of IPG's comprehensive range of laser cutting and welding systems throughout the UK and Ireland.
As a firmly established and highly respected supplier of laser technology, TLM already has the technical and application expertise required to seamlessly integrate this new product range into their product offering.
The IPG laser cutting and welding systems complement the existing range of laser marking, welding, engraving, cladding and hardening systems available currently from TLM Laser. The synergy extends beyond the application level, as systems already sold by TLM within the UK and Ireland, from FOBA Laser and Alpha Laser, actually use laser sources from IPG Photonics.
Just one of the new ranges of systems which TLM will now be promoting is the LaserCube, a compact fibre laser cutting platform that delivers superior cutting performance combined with low operating costs. Other products which will now be available from TLM include IPG's range of multi-axis laser welding systems.
TLM Laser director Andy Toms comments: "We are delighted to be representing IPG Photonics, as this additional and complementary range of laser cutting and welding systems will open up new opportunities for us within a number of sectors including Medical, Automotive and Aerospace".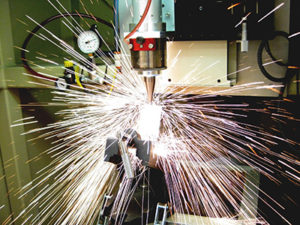 IPG Photonics Sales Manager Steve Ingram comments: "TLM Laser are the ideal partner for us within the UK and Ireland. They are highly respected for their technical expertise, market knowledge and pro-active approach to customer support and service. We look forward to working with them in developing this partnership."
IPG was founded in 1991 in Russia by physicist Valentin P. Gapontsev, Ph.D., a pioneer in the field of fiber lasers and recipient of various awards. In the beginning, IPG made and sold customized glass and crystal lasers, wireless temperature meters for hyperthermy and laser components. In 1992, the company began focusing on the development of high-power fiber lasers and amplifiers.
The firm received its first major contract from telecommunications carrier Italtel. IPG then won a second major contract fromDaimlerBenz Aerospace. The company opened a facility in Germany in 1994 and established World Headquarters in the USA in 1998.
In 2000, IPG invested in new high-capacity production facilities in USA to manufacture its own diode pumps, a major component of its fiber lasers and amplifiers. IPG is highly vertically integrated, producing all critical components for its lasers and amplifiers.
The company went public in 2006 and is listed on the NASDAQ Global Select Market under the ticker
Founded in January 2006, TLM-Laser Ltd is a dedicated laser service company, providing a second to none service and maintenance program which we can implement to best suit its growing customer demands.
Located regionally throughout the UK TLM provides a quick and efficient service, whether it be a preventative maintenance contract or emergency breakdown cover. Its highly trained and experienced engineers have vast experience on a complete range of lasers. Whether it be lamp pumped lasers, diode pumped or CO2, it will endeavour to maintain and extend its growing reputation at the forefront of the laser servicing and repair industry by carrying out scheduled maintenance visits as well as providing call out cover.
Initially providing a 'Total Laser Maintenance' service, the company now offers a complete range of laser products from some of the leading names in laser technology. Alltec, Foba, Innolas, Univet, Bofa, ALPHA LASER, Coherent Laser Machining and Swisstec Micromachining are names immediately recognised globally within the laser industry for the highest of quality and outstanding customer service. These are all supported by experienced and highly trained engineers to ensure your equipment generates the maximum in productivity.
TLM Laser
Tel: 01527 959099
Email: sales@tlm-laser.com
www.tlm-laser.com