KNUTH Machine Tools is building a strong sales and service structure in UK by establishing a new cooperation with an experienced partner located in the UK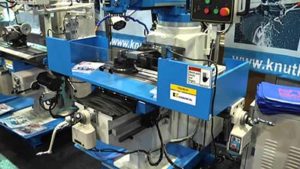 "We are happy to announce this new partnership with CNC Machine Tools Ltd in order to extend our activities in the UK market", explains Marcin Ambroziewicz who is in charge of Northern Europe International Sales at KNUTH Machine Tools.
CNC Machine Tools Ltd has built an experienced service and support team in the whole of the UK, supporting a significant number of clients from many different branches and building strong customer relationships in industry sectors such as steel, automotive, Formula 1, aerospace, oil and gas, manufacturing, stone cutting, wood machining and heavy industries. The success of CNC Machine Tools Ltd has been built upon its extensive service network, which customers in UK can rely on.
CNC Machine Tools Ltd will also provide consultation, sales and support for KNUTH Machine Tools.
"We want to provide our customers in the UK reliable and very good service for our increasing product portfolio of high quality machines. CNC Machine Tools Ltd is the right partner for these activities," continues Marcin Ambroziewicz. He further emphasises that customers can also benefit from the wide range of machines and machine accessories offered by KNUTH MachineTools.
CNC Machine Tools Ltd is one of the largest and longest established companies specialising in the servicing, repair and maintenance of all types of machinery including specialised CNC machines throughout the UK.
KNUTH Machine Tools is a leading supplier of conventional and CNC-controlled machine tools. The great success of its business is based on highest quality standards, technology innovations, decades of experience and very competitive pricing. A network of German and international branches and dealer locations ensures worldwide accessibility for its customers at a local level, market-covering presence, expert consultation and prompt service.
For detailed information and specifications on the complete portfolio, visit the KNUTH website at www.knuth.de
CNC Machine Tools Ltd
Tel: 01953 888058
Email: sales@cncmachinetools.co.uk
www.cncmachinetools.co.uk