Registration for this year's Digitalising Manufacturing 2017 conference has opened, with early-bird passes now on general sale.
Organised by the Manufacturing Technology Centre (MTC) in Coventry, a dedicated microsite has also been launched www.the-mtc.org/digital2017 showcasing the two-day conference, on October 30-31, at the MTC's start-of-the-art event facilities.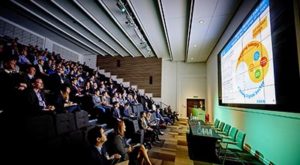 A key focus of the conference is to engage SMEs in the digital revolution and to provide practical knowledge and support to get businesses primed for the digital journey.
The conference, which has a diverse agenda, also features world-leading speakers, panel discussions, workshops and demonstrators. Keynote speakers include Siemens UK CEO Juergen Maier; Innovate UK's Lynne McGregor and HVM Catapult's chief technology officer Sam Turner.
The event will also feature a high-profile international dimension with representatives from the G20 Presidency, the World Economic Forum and the European Commission.
Early bird tickets are priced at £50 plus VAT for one day or £75 plus VAT for both days.
SMEs are being encouraged to attend and are being offered 50 percent off all delegate passes. To take advantage of this offer,
email digital@the-mtc.org to be sent the discount code.
The conference, now in its third year, is sponsored by ATS, Bosch, Bosch Rexroth and Beckhoff.
Follow conference updates on Twitter and LinkedIn via #MTCDigital2017
The Manufacturing Technology Centre (MTC) is inspiring Great British manufacturing globally by developing innovative manufacturing technologies and processes in partnership with industry, academia and other institutions.
Founded in 2010, the MTC has some of the most advanced manufacturing equipment in the world enabling it to provide a specialised environment for the development and demonstration of innovation to be used on an industrial scale.
A leading proponent of Digitising Manufacturing and home to the National Centre for Additive Manufacturing, the MTC has expertise across a range of technologies. The MTC works collaboratively with companies of all sizes from start-ups to global corporations in diverse industry sectors including aerospace, marine, defence, construction and food and drink.
The MTC has more than 100 industrial members, who play an active role in the steering of the technological path of the organisation. The membership scheme promotes long term relationships, however, the MTC works with any company seeking a manufacturing solution. The MTC is part of the High Value Manufacturing Catapult, which is supported by Innovate UK.