SolidCAM UK Ltd are pleased to announce that they are opening a new technology centre based in Little Horwood, Milton Keynes on 1st November 2016, in-line with its ever-growing consumer demand and to stay ahead in what it describes as a competitive and fast-moving market.
The technology centre, will provide additional dedicated support and training to its customers by providing wider geographical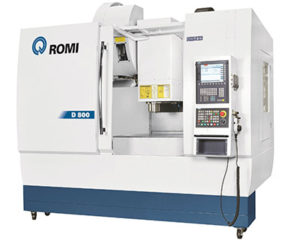 options for venues, and also will provide a more practical classroom experience. It will be the perfect place to demonstrate the power of SolidCAM software and show-case and test its latest technologies and to prove them in-house.
Live cutting demonstrations showing the power of SolidCAM's leading milling modules, including the revolutionary, unique and patented iMachining module, will be shown on a Romi D-800 vertical machining centre kindly supplied by Romi Machines UK. SolidCAM UK's customers, partners, and resellers who have attended their training and education will greatly benefit from this practical 'shop-floor' environment. It also provides an ideal environment for future customers to fully experience the benefits of SolidCAM software and how it would improve their efficiency and profitability.
Continuing from the much anticipated and successful SolidCAM and iMachining webinars carried out by SolidCAM UK, live cutting webinars will be broadcast from the new technology centre directly to attendees' screens. Developing upon its online presence, recordings of webinars can be seen on the video-sharing website, YouTube.
Gordon Drysdale, managing director, SolidCAM UK Ltd says: "At SolidCAM UK Ltd, we are dedicated to providing our customers with the very highest levels of support and training, which is the principal reason for our expansion to guarantee that our customers receive the highest levels of service right from the initial contact, through to our after sales support and service. We are dedicated to investing in the development of all elements of our company in order to ensure we uphold our reputation for high standards."
SolidCAM UK believe that the timely opening of the new technology centre will enable the company to further exceed the expectations of its customers.
Gordon Drysdale says: "Many of our customers use premium and expensive materials and demand absolute accuracy in production. With SolidCAM, we can offer the reliability, productivity and cost reductions essential for success in these sectors, and demonstrating these factors gives our customers' the confidence to invest.''
Paul Reeves, national sales manager at Romi Machines UK, says: "We are excited about this long-term and growing mutually supportive partnership with SolidCAM UK who share the same dedicated customer service values as we do, and look forward to the future increased growth of both companies.''
SolidCAM
Tel: 01226 241744
www.solidcam.com