Over the years, Hurco's entry-level machining centre, the vertical-spindle VM1, evolved into the more capable VM10 and the manufacturer has continued to improve the specification. Linear travels have been extended, a larger toolchanger is provided, spindle speed and rapid traverse are both faster, and a spindle chiller and through-spindle coolant have been added.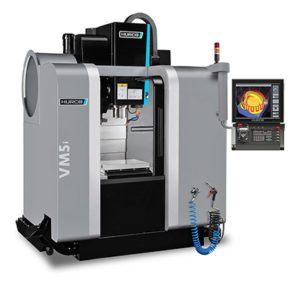 This progressive upgrade has left room for a new entry-level CAT/BT40 machining centre, the VM5i, which was launched at Hurco's open house in High Wycombe at the beginning of October 2016. The first stock machines have arrived in the UK with a price tag of under £30,000.
A notable feature of the machine is its compact footprint, despite it having generous axis travels of 457 mm, 356 mm and 356 mm in X, Y and Z. A VM5i can enter a factory through a door just 1.64 metres wide by two metres high and occupies a small space when it arrives.
High quality build includes a rigid cast structure, linear guideways in all axes and Yaskawa digital drives. The spindle is rated at 7.5 kW / 8,000 rpm and is supplied with cutters automatically from a 16-station magazine via a swing-arm tool changer.
Hurco's proprietary Max5 control rounds off the package, providing industry-leading conversational programming capability. It features a 19-inch LCD display with touch-screen navigation and a keypad that is adjustable by up to 90 degrees.
Worthy of special mention is that Ultimotion forms part of the standard software bundle. It controls axis movements using an advanced algorithm, rather than relying on hardware-based motion control, minimising the need to decelerate when the cutter changes direction. As a consequence, cycle times are said to be up to one-third faster. Additionally, chatter, vibration and jerk are lower, resulting in improved surface finish on machined components.
Hurco Europe Ltd
Tel: 01494 442222
Email: sales@hurco.co.uk
www.hurco.co.uk