Bystronic, provider of state of the art sheet metal processing systems and services has agreed an innovation partnership with Lantek, experts in software solutions and the development and deployment of software systems for the optimised production of sheet metal, tube and profile parts.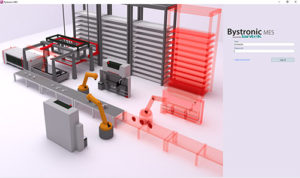 The two companies have entered into a long term technology partnership and a strategic global alliance whereby Lantek will provide Bystronic with manufacturing management software systems and consultancy expertise.
Bystronic wants to satisfy its customers' needs with a reliable and robust manufacturing management system which has been widely tested worldwide to support its excellence in machines and its global sales network. Lantek brings its global presence, its software engineering expertise, and its unique and powerful manufacturing management system, providing an ideal match for the manufacturer. Together, Lantek and Bystronic will be able to accelerate the pace of key developments.
The aim is for the companies to collaborate to develop an MES system which will be seamlessly integrated with Bystronic's machine systems and software, resulting in a solution which will excel in cooperating with the Bystronic's systems, raising them to the next level of productivity and efficiency.
The collaboration will help in the realisation of the digital factory for both Lantek and Bystronic customers. The combining of the resources and experience of these two industry pioneers in machine tools and software is a critical step in driving innovation and making the digital factory a reality. Together, Bystronic and Lantek have a great legacy and will be instrumental in building the most advanced sheet metal production facilities ever constructed.
Alberto Martinez, CEO, of Lantek said: "I am thrilled that Lantek is now a technology partner for Bystronic, a symbol of innovation for machine tool builders worldwide. The Lantek technology portfolio is wide and deep, and Bystronic's excellence in machine construction is world renowned. With innovation a part of the DNA of both companies, this partnership will help Bystronic's customers transform how they manage Bystronic machines and transcend the established boundaries in the sheet metal industry."
Bystronic CEO, Alex Waser, said: "With Lantek, we have gained a strong partner who will help us expand our existing software portfolio with new solutions. This partnership will provide our customers with twofold know-how. Together, Bystronic and Lantek will develop innovations that will guide users into a world of digitally networked manufacturing."
Both Lantek and Bystronic are celebrating their 30th anniversary this year, so the alliance marks this milestone for the two companies. For Lantek, the agreement will underpin its strategy which focuses on the digitalisation of sheet metal companies worldwide.
Lantek Systems Ltd
Tel: 01684 585384
Email: rob.powell@lantek-systems.co.uk
www.lantek-systems.co.uk 
Bystronic UK Ltd
Tel: 0844 848 5850
Email: david.larcombe@bystronic.com
www.bystronic.com